Hi! It's me! Callie! Your favourite blogger!
As you see from the title I will be talking about art. I will specifically be talking about the art that I am doing right now in my art class, and that art is the Robots and Donuts art by Eric Joyner. Robots and Donuts art is very fun and enjoyable because you can be creative and there can be ENDLESS scenes that you can use.
The story behind Robots and Donuts is this. Eric Joyner got inspiration from chinese toy robots, he started to draw and paint them. Then he decided that to make the paintings more entertaining the robots needed an enemy. Soon after that he decided that there enemies will be donuts. And so he started drawing robots and donuts.
Here are some examples of Robots and Donuts drawings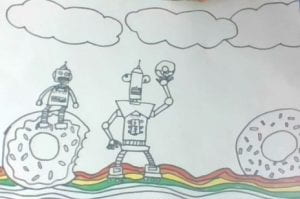 That is how my Robots and Donuts art is going.
Here is a link to a video that shows you how to make Robots and Donuts art: Robots And Donuts Video
And That Is My Robots And Donuts Art!!!